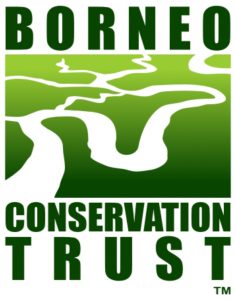 BORNEO CONSERVATION TRUST (BCT) is a state-mandated, tax exempt NGO (non-governmental organisation), that was established in 2006 under the Trustees (Incorporation) Ordinance 1951 Cap. 148 (Sabah).
Its main aim is to deal with the pressing needs to preserve the habitat and the migration routes of Borneo's endangered flagship wildlife. This migration route is located along the Kinabatangan and the Segama rivers.
The establishment of BCT was first mooted as an exciting and concrete Malaysian-Japanese effort to buy back alienated wetlands and riverine forests for restoration to its original state.
A boat trip to the Lower Segama in 2003 by a team of JICA experts that included Dr. Toshinori Tsubouchi and the Bornean Diversity & Ecosystems Conservation (BBEC) Chief Advisor, Mr. Takahisa Kusano, had sparked an interest to buy back alienated wetlands and riverine forests when they sighted an expansive area of land which was supposed to be planted with oil palms, were left untouched. The owners had given up the area/land for sale, as the said land was within the direct migratory path of the Bornean Pygmy elephants which bulldozer anything within their pathway.
In 2006, a Board of Trustees chaired by Y Bhg Tan Sri Richard Lind began in earnest with the set-up of the BCT office at the 5th Floor, Block B, Wisma MUIS, Kota Kinabalu next to the Sabah Wildlife Department Headquarters.
BCT aims to work in smart partnership with various stakeholders, including state government agencies and private landowners to manage, lease, or purchase lands within and in the vicinity of the proposed BCT Green Corridor area and ultimately to manage a sufficiently large green corridor.